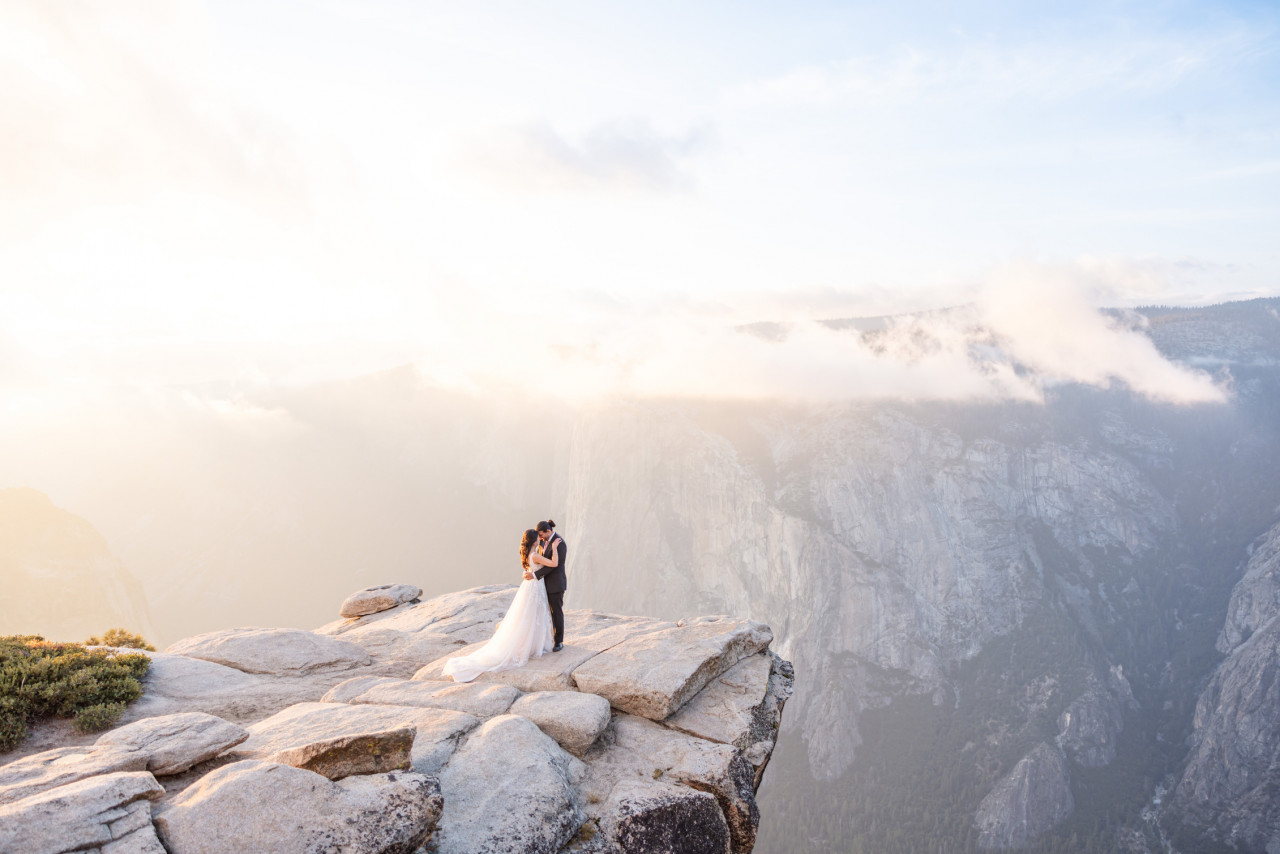 San Francisco Wedding Photographers
Cheerful, bright, and vibrant — these are words often used to describe our photos, but as wedding photographers, we know there's so much more to a photo than how it looks. Throughout a wedding day, moments and feelings are what we're really after!
There are so many big moments to document throughout a wedding day. The first look, the walk down the aisle… the kiss! But do you know which photos our couples end up loving the most?
It's the photos that capture the bits in between.
The moment your father's eyes well up as he watches you say "I do." The expression on your faces as you look down the aisle at each other and think: "This is real!" And, perhaps, your reactions to the inevitable bridal party toast that's just a tad embarrassing.
We're Annie and David, and for us, weddings are all about moments and feelings. We work best with couples who deeply love and care for each other, are down-to-earth and like to have fun, and who wish to look back on the laughter and happy tears of their wedding day for years and years to come.
Testimonials
What Our Couples Are Saying
THEY WERE FANTASTIC! I am still beaming over our photos and we have received so many compliments. One of the best decisions we made (other than getting married, of course).

— Alisha & Andrew
…we were instantly put at ease by their kind and genuine energy. We had so much fun and most importantly, the pictures are better than we could have dreamed.

— David & Stephanie
I'm pretty sure at one point David was going to jump into water to get a better angle. And even though it was a long day, they were so much fun to be around!

I can't say enough how happy I am with the results. I look at the photos regularly and am still amazed at the quality.

— Mary & Juno
Wedding Photography
Learn about how we work together on a wedding day, read about the details of our process, and get to know our a work a little more by browsing through photos of our happily-married couples.

We'd be excited to hear from you.
Featured Posts
Kelly & Brendan's The Highlands Estate Wedding
All year… that's how long we had been waiting for Kelly & Brendan's wedding. From beginning to end, their wedding was one of our most fun, exciting, and elegant, not to mention having the absolute sweetest and cutest couple as hosts!
Their love story officially began with an email Brendan sent to his coworker, Kelly, just two weeks before he was to leave his job and move across the country to California. Amazingly enough, it all worked out perfectly, Kelly ended up moving to San Francisco as well, and the two tied the knot last month at the beautiful Highlands Estate!
Their wedding day was an incredible 113°F. Cloverdale is often hot, but this was absolutely record-shattering! It didn't matter much though — K&B and their family and friends were so cheerful and a real joy to work with. We loved their touching ceremony, fun reception, and all the little details, especially the printout of Brendan's email that kicked everything off. So cute!
We had such a hard time picking the photos for this blog post because there are just SO MANY that we love! Scroll down and see the lovely couple and their absolutely perfect day for yourself 🙂
Brookelynn & Brandon's Lake Tahoe Wedding
This July was packed with some of our most memorable weddings ever, and I honestly can't imagine a better way to finish the month than with a roadtrip for Brooke & Brandon's Lake Tahoe wedding at The Chateau at Incline Village.
We actually photographed their surprise proposal last year, and we loved the extensive and thoughtful planning that went into making an incredible day extra special. We knew that day that these two were perfect for each other, but it wasn't until their Lake Tahoe wedding that we witnessed just how in love they were!
For their wedding, B&B had originally planned on having a "first touch" (like a first look, but without the "look") by standing on opposite sides of a divider, holding hands, and exchanging a few words in private before their ceremony. They decided last-minute to skip it, and I'm glad they chose to keep it traditional. The moment Brooke started to walk down the aisle towards Brandon — the look in their eyes, the tears of emotion — those were the some of the most memorable few seconds I've ever spent behind a lens. Those expressions and emotions are something that can only be found within two people truly and completely in love. It makes us incredibly happy not only to have had the privilege of capturing these moments on camera, but also to know that they've each found their perfect match.
So much else happened that day, but to spare you my lackluster writing and get to the point (aka photos), I'll just briefly mention two other things. Their first dance was accentuated by a fog machine, creating a "dance on a cloud" effect with a huge wow factor. Apparently, this was a surprise to everyone, including the bride & groom… certainly the type of wedding day surprise I have no complaints about! And just before sunset, we went to a magically-lit wooded area of the golf course and got some photos of B&B that we absolutely adore. And I should also give a shoutout to the videographers who did an amazing job there with us. They even showed a sneak peek of some footage just minutes later at the reception!
Our trip wasn't over after the wedding day, though. One of the most rewarding decisions we've ever made was to stay an extra day in Tahoe for an adventure session with them the day after. This was a relaxed, stress-free photo shoot, devoid of time constraints and wedding day pressure, when we can just do whatever and go wherever. And that's exactly what we did! We took a short hike up a trail for a beautiful view of the Lake, then drove over to Sand Harbor for some photos at — and even in — the water.
Congrats to Brooke & Brandon on officially tying the knot. The whole weekend still feels like a dream, but here are some photos to show that it really happened!
Lauren & Jeff's B.R. Cohn Wedding
We've waited almost a year and a half for Lauren & Jeff's B.R. Cohn wedding, and if we were in love with their engagement photos last fall, then we're absolutely over the moon with everything about their wedding day. This was one of those weddings where we not only really enjoyed ourselves from behind the lens during all the action, but we constantly find ourselves smiling again and again, every time we look at their photos or think back to their wedding day.
If I had to describe the kind of couple we absolutely adore, I think it would pretty much be Jeff and Lauren: mostly cool and collected, yet excitedly in love and super lively together. Now combine them with B.R. Cohn Winery and its gorgeously-lit vineyards, and you can see why we're practically jumping up and down in excitement at the result.
I don't think it really needs to be said how much we loved the way these photos came out — the light was just perfect all day, and of course especially for the sunset photos, so I'll just let you browse the photos to see that. Perhaps what we enjoyed more are the special little moments of the day, like Jeff's double-fist-pump after seeing his bride for their first look, the adorable ring bearer pulling the baby flower girl in the most adorable wooden wagon, and during the reception, the maid of honor's 10-page speech booklet flying open in the wind.
Congrats to Jeff and Lauren… especially Jeff, since your million "can I keep you"s to Lauren have finally been put to rest 🙂